Biography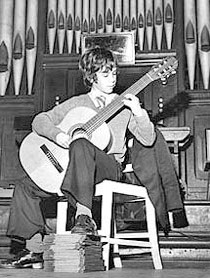 Paul Galbraith was born in Edinburgh, Scotland in March 1964. He started piano lessons when he was 7, and guitar a year later.
At age 11, Paul attended St. Mary's Music School in Edinburgh where, while continuing his guitar studies, he studied piano with Francesca Uhlenbruek, a disciple of Alfred Cortot and Nadia Boulanger.
Three years later, Paul relocated to Chetham's Music School in Manchester, England, heeding advice offered him by the renowned guitarist, Alirio Diaz, to continue his studies with RNCM professor, Gordon Crosskey. He also studied piano at Chetham's under Narina Arutunian.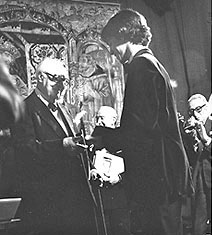 In October 1981, at age 17, Paul Galbraith took part in the 1st Segovia International Guitar Competition, in Kent, England; he was the youngest of 50 competitors from 14 countries. Paul was awarded silver medal by a Jury presided over by Segovia himself. "Paul is magnificent. He will be a great artist", was Segovia's comment to the press after the competition. As a result of this success, Paul performed at the Queen Elizabeth Hall in London with the English Chamber Orchestra.
Six months later, Paul entered BBC television's "Young Musician of the Year" competition, winning the string section in March, 1982. Broadcast on TV throughout Great Britain at peak viewing time, Paul's performance in the final of Rodrigo's "Concierto de Aranjuez" with the BBC Northern Symphony Orchestra brought over-night national renown. "The most mature artist, and the one most capable of moving an audience was Paul Galbraith" stated the critic from "The Guardian".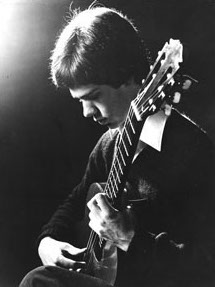 This event launched Paul's solo career nationally and his reputation as a leading talent spread rapidly through further TV appearances, radio broadcasts, recitals and concerto performances at some of the most prestigious halls in the UK. He was a regular guest soloist with major UK orchestras. While continuing to concertize, expanding to European tours, Paul began studies at the Royal Northern College of Music in September 1982, graduating four years later. "He is the best guitarist of his generation", affirmed "Classical Guitar" magazine, after Paul's performance at the 1983 Esztergom International Guitar Festival, in Hungary.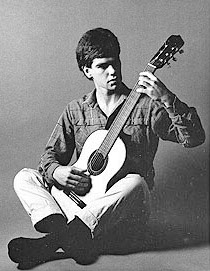 However, such praise did little to diminish the dissatisfaction that Paul increasingly felt in relation to his development.
In 1983, Paul began classes at the RNCM with pianist and conductor George Hadjinikos who soon became his musical mentor. One of the key-stones of Hadjinikos' teaching, "interpretative motion within technique", had a decisive impact on Paul's search.
In the Spring of 1984, Paul came across a more natural, comfortable and expressive way of playing the guitar. Instead of using the traditional classical guitar posture, he hit upon a radically different solution to guitar posture: holding the guitar between the knees, sitting cross-legged on the floor. This enabled, for the first time, equal freedom of movement for both arms. Just weeks after discovering the new posture, Paul was already using it for his concerts, to the surprise and shock of the musical press.
Gradually this position evolved, due to the neck-angle becoming increasingly vertical in relation to the torso, with the eventual result that, three years on, the instrument was positioned in a similar way to that used by cellists. At this point, therefore, it was a natural step for Paul to adapt a cello end-pin to his guitar, enabling him to further liberate the guitar's resonance.
Later on, a resonance box, designed to enhance and enrich tone quality - an idea also inspired by cellists' equipment: their stage platforms - and a collapsible, custom-built low chair, was to complete Paul's playing set-up. To allow time to absorb this unorthodox playing technique more completely, Paul minimized his concert appearances for a period.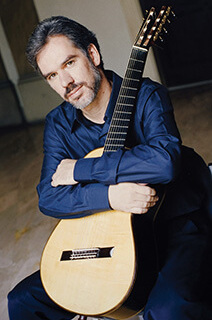 Two years into his fully-developed vertical guitar posture, in 1989, Paul returned to touring, beginning with a critically acclaimed recital in his old home city of Edinburgh, at the Queen's Hall. The Sunday Times dubbed his new posture "revolutionary"... "the results were truly remarkable, with an amazing clarity and a huge dynamic range...the audience was held spellbound".
His continuing quest to overcome the guitar's technical limitations later led Paul to develop a new instrument, which would better correspond to musical needs. Wishing to play the lute works of Dowland and Bach in their original versions, as well as transcriptions of a wide range of music including Brahms, whose Op.21 Variations he was working on at the time, he conceived the idea of a guitar with two extra strings surrounding the traditional six – one lower and one higher. For this exciting new venture, Paul collaborated with the renowned English luthier, David Rubio. Rubio's extended work on the eight string 'Brahms Guitar' (as Rubio subsequently named the new instrument, due to his surprise at how 'Brahmsian' the Op.21 Variations sounded to him on this guitar) first came to fruition in the form of a 'prototype', completed during the last days of 1993.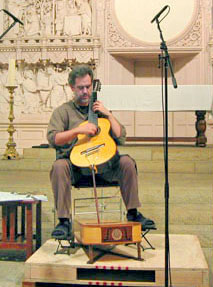 In 1994, Paul made his first recording on the new Brahms guitar, with an album entitled 'Introducing the Brahms Guitar', in which he plays Henze, as well as his transcriptions of works by Brahms (the Op.21a Variations), Grieg, Dowland and Bach.
The following year, in a concert at the Philadelphia Bach Festival, Paul performed in a two- hour recital, his own transcription of Bach's complete solo violin Sonatas and Partitas for the first time, a programme he would subsequently present on tour throughout the US and at further venues and festivals in Europe.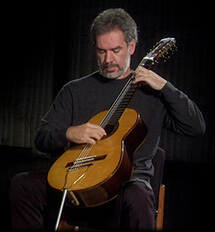 Released in the summer of 1998 by the American label, Delos as a two-CD set, Paul's recording of the complete Sonatas and Partitas by Bach also received high critical acclaim. The album was indicated for a Grammy Award at the end of 1998 and reached Billboard's top 10 sales rating in the classical charts soon afterwards. "Magnificently played, thoughtful and majestic performances... a landmark in the history of guitar recordings", summed up "The Gramophone" magazine that same year.
Since then, Paul has regularly released CD recordings: Bach's Lute Suites, Haydn Keyboard Sonatas, 'French Impressions' (Debussy & Ravel), A Folk Song album (Bartok, Grieg, etc), all for the Delos label. In 2006 he released a recital album for DVD (Mashulka productions), recorded and filmed at the Legendary Capitol Studios, LA, with works by Mozart, Britten and Bach. Paul's latest recital album, called "Allemande" (GuitarCoop, Brazil), was released in 2017. Between 1999 and 2002, while living in Brazil, Paul was a founding member of the Brazilian Guitar Quartet and released 3 CDS (on Delos) with the group: two dedicated to Brazilian repertoire and one comprising arrangements of Bach's 4 Orchestral Suites.
Paul continues to perform with major orchestras and ensembles in Britain and Europe, such as: the BBC Orchestras, the Royal Philharmonic, the English Chamber Orchestra, the Halle, the Scottish Chamber Orchestra, the European Chamber Orchestra, the Moscow Chamber Orchestra, the Halle Orchestra, the Scottish Chamber Orchestra, the Chamber Orchestra of Chile and the Moscow Chamber Orchestra. Paul has further guested with leading ensembles, such as the St Petersburg Quartet (on tour) and the Shanghai Quartet.
His most recent collaboration has been in duo with Brazilian cello legend, Antonio Meneses.
Since the mid-nineties, Paul has toured the USA annually, and performed throughout the UK, Switzerland and the European Union, as well as in China, South America, South Korea, Russia, Norway, Iceland, Australia and Canada.